Farworld Pioneers release!
The Indie video game Farworld Pioneers was released for Steam (PC) and Xbox One/Series X(S) on May 30 2023! A PlayStation 4/5 version should be available soon ™. This release marks my (MrTamkis') fourth professional Indie video game release in the gamedev industry that I have contributed development for. The game was developed by Igloosoft Games and published by tinyBuild.

I worked at Igloosoft Games as a contract Unity/C# developer for the game's development on the devteam from Dec 2021-Dec 2022. This was for the main version of the game (PC/Steam).

Duties included:
Creating new enemy creature AI

Designing a character editor

Designing compound setpieces from procedural generation code

Polishing up the game, implementing bugfixes and new features

Iterating on feedback


Participating in private and public playtesting sessions for bug hunting

on networked multiplayer games

Farworld Pioneers is an open-world, 2D, sandbox space colony survival game on foreign planets, with Minecraft-like block crafting/world building, PvP colony battles. It has online multiplayer and colonial building for you faction's bases. Similar in design to Starbound but better.
Description from the Steam Store page:

"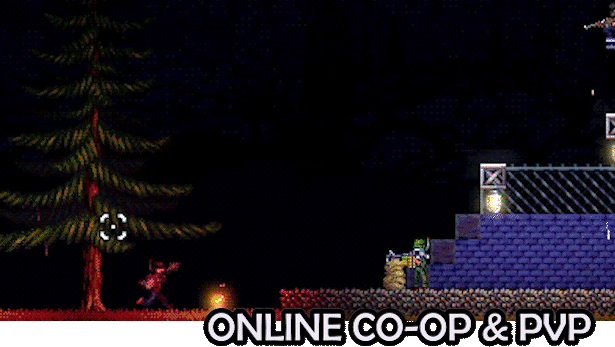 Play with friends co-operatively or form hostile factions:
In this open-world galactic sandbox, how you play is up to you! Bring your friends into the frontier in your own private server, or make new friends (and enemies) in large public multiplayer servers. Play peacefully in co-op, or use the dynamic multiplayer faction system to band together and split apart dynamically as allegiances change.
Build ships from scratch and travel to new planets:
Your first planet is where you'll learn to survive, but that's just the start. Build your very own starship and use it to colonise new worlds. It won't be easy, and only the most successful colonies will be able to pool the resources and knowledge necessary to break orbit. Once you launch, the stars hold brand-new planets, new biomes, bosses and challenges.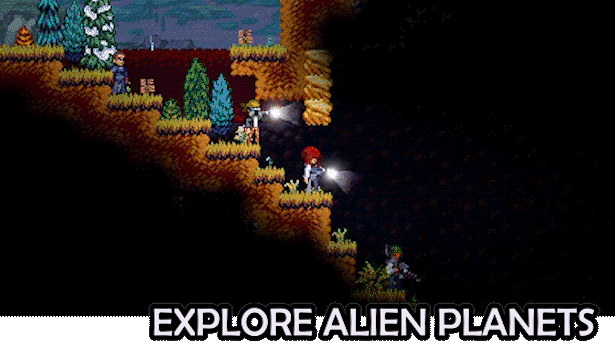 Craft, research, loot and exploit your environment:
You'll need to prepare to take on this hostile part of the galaxy. Get mining, farming, growing, developing, researching, and building hundreds of different items, from winter combat gear to advanced laboratories. Find something you can't work out for yourself. Strap on your handcrafted laser rifle and venture out into the unknown to explore dungeons, procedural bases, NPC stores and much more.
Defend what you've built, or take on the galaxy:
Defend your colony with fast-paced combat that utilizes physics like bullet drop, projectile speed and spread. Thwart enemy raids on your base with your stock of handcrafted grenades. Tired of just defending? Lay waste to enemy bases with destructible terrain as you wield everything from rusty old carbines to nuke launchers and energy weapons that harness the power of lightning!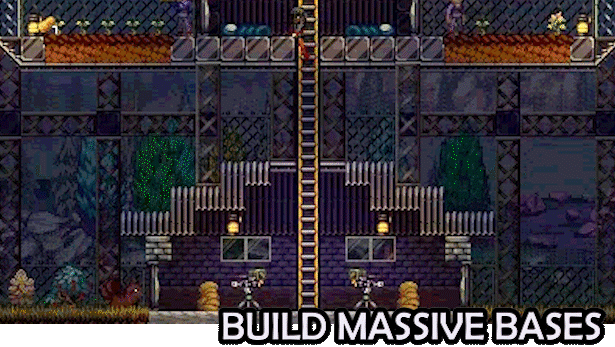 Develop and construct advanced bases for protection:
Grow from a tiny outpost into an advanced, nuclear-powered fortress. Manage resources carefully and choose research paths based on the items and challenges you encounter on each planet. Watch out, though: the bigger your colony gets, the more of a target it becomes for raiders (and jealous friends).
Automate work and train up a team:
Even out here, you're not alone. Save AI survivors and build a colony together. A range of unique stats, perks and flaws mean every colonist has something different to contribute. As your AI colonists complete tasks they'll level up and get smarter, stronger and faster. Best of all, you can assign tasks and orders to NPCs to do the grunt work for you and prioritize their roles based on those skills. Want to take a break from mining to destroy an underground alien nest? Let your colonists handle that for you!
And Remember
Your ship may be in ruins, your ammunition running low, and your teammates scattered across the surface, but remember this:
You're more than just another adventurous spirit.
You're a Farworld Pioneer.
"
-MrTamkis (aka "Eagle")